The benefits of a conveyor system for packaging

What is a packaging conveyor system?
Looking to streamline your manufacturing or processing facility? You'll need the right conveyor system to ensure the goods you proudly put your name to are packaged to perfection.
The picking and packing processes are integral to the way many facilities do business. Both stages have to be finely tuned and expertly handled to ensure the efficiency, product quality and accuracy brands need to succeed as a whole.
Here at Ocon Conveyors, we design, manufacture and supply a wide range of conveyor systems to meet your exacting needs as well as cater to the demands of your own customer base.
A packing conveyor system is exactly that – made up of mechanical devices that utilises conveyors to transport various products for packaging. Using a simple yet sophisticated setup that contains a series of conveyor products, including belt conveyors, powered roller conveyors, gravity roller conveyors and rotary turntables.
A conveyor packaging system ensures the perfect solution for the end of your assembly or production line.
Why do you need a conveyor system for packaging?
Investing in a packing conveyor is the right next step for organisations serving countless industry sectors.
From warehouses and manufacturing facilities to food processing plants and medical supply services, how goods are packaged before they are moved onto clients and/or the end customer is essential.
Ensuring workstations have a steady and constant stream of items to be picked and packed is therefore crucial to the supply chain.
Our conveyors are designed and developed for this very process, and use the right contract packing conveyor alongside a range of accessories (including side tables, extendable side surfaces and rotary turntables) to give human workers the equipped space they need to save time when packaging goods or materials for despatch.
The benefits of a conveyor system for packaging:
For an automated solution that gets your goods from A to B for packing, our range of conveyor systems unlock several advantages.
Whether you're packaging food, pharmaceutical products or general items, the bespoke packaging conveyors we specialise in will provide a system that works for your budget and your business.
Those investing in a conveyors for packing can look forward to the following benefits:
Better workflow for employees
There's nothing more disruptive than an inconsistent workflow, and it'll have a negative impact on how your workers perform. Give your workers the best chance of success by providing a packing conveyor system that works for them. The packing conveyors we design, build and install are developed with your workers in mind.
How, and the rate in which, goods are fed through the system can be adapted to your exact needs to ensure a seamless operation, whatever production output you are looking to achieve.
Increased productivity
With improved workflow also comes increased productivity. By automating the movement of products throughout the packaging process with the addition of a packing conveyor system, product handling can be improved to minimise damage, errors and loss. All this will enhance your outfit's operational efficiency and speed.
Your workers and wider operational efficiency will also benefit from the reduction of heavy moving equipment use.
Our contract packing solutions ensure limited interaction with equipment like forklifts and pallet jacks, and the saving of time and resources.
Variable speeds
Many of our contract packing conveyor systems come fully equipped with variable speed controls, giving you the power to adjust feed rates to your specific requirements.
The variable speed of belts and rollers make periods of increased or reduced demand easier to handle.
Line starvation and product accumulation can also be prevented, with goods able to be processed at a speed that suits your facility and your workers.
Ergonomic design
The ergonomic design of our contract packing solutions ensure many rewards can be reaped by the facilities we assist, their workers and their customers.
By introducing a more ergonomic way of working, your warehouse or factory can make significant cost savings (especially when it comes to labour and workplace safety), improve productivity, boost product and service quality, enhance employee engagement, and create a better, safer company culture.
Keeps work area tidy and organised
Keeping the work area as tidy and organised as possible is a priority across all industry sectors.
As well as ensuring better health and safety, a tidy work area encourages productivity and precision.
By finetuning your contract packing setup with the addition of a packaging conveyor, you can reconfigure your production line with the right options and accessories.
By making your workstations fit for purpose with our packing conveyor systems, your industrial setting can become a safer, productive and more pleasant place to work.
What type of conveyors are most suitable for packaging?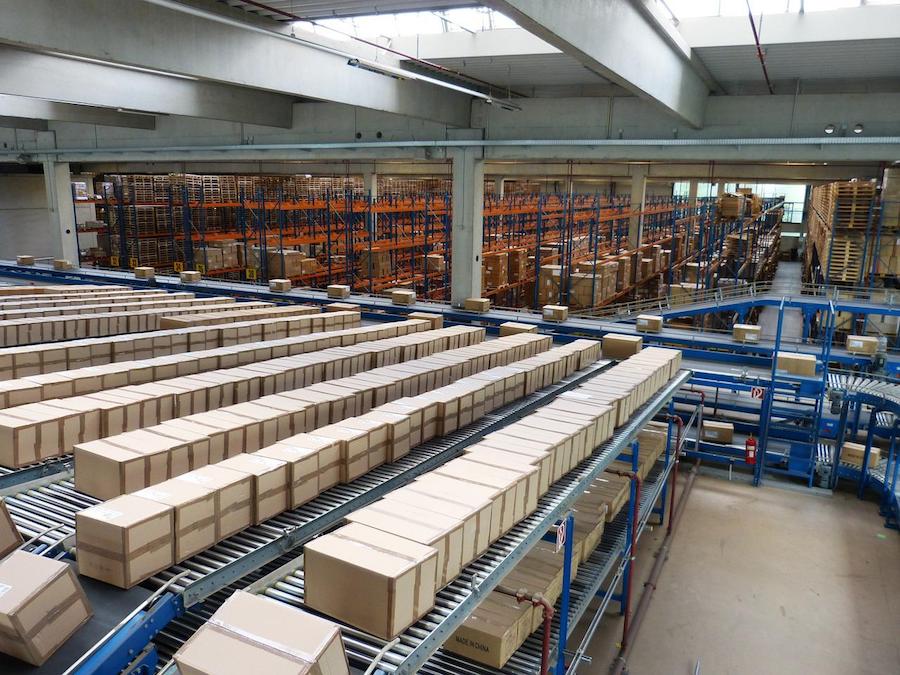 The joy of our contract packing conveyor systems is that they can be designed, manufactured and integrated with your exact needs in mind.
With this, packing lines incorporate a wide range of conveyor systems and accessories to ensure an efficient, profitable and reliable setup.
Contract packing conveyor systems can implement grading conveyors, inspection conveyors, metering conveyors, inline metal detection, multi-head weighers, hoppers and buffers, storage vessels, and tippers to ensure an automated solution that delivers on all fronts.
Why choose OCON Conveyors for your business?
For packaging conveyor systems that help you save space, increase efficiency, lower manual handling, boost running time and lower safety risk, choose Ocon Conveyors as your conveyor packaging line supplier.
Our specialists have decades of experience introducing packing conveyors to new and established operations, and do so to ensure optimum return on investment for our industrial clients. We're also here for you long after your packing conveyor line has been installed.
We provide servicing, maintenance, repairs and spare parts to keep your contract packing solution moving. Find out more about the customised packaging conveyor systems we make possible by contacting our team today.
https://www.ocon.co.uk/wp-content/uploads/2023/04/The-benefits-of-a-conveyor-system-for-packaging.jpg
400
770
admin@ocon
https://ocon.estaging.co.uk/wp-content/uploads/2021/06/ocon-logo.png
admin@ocon
2023-04-10 11:27:57
2023-05-09 10:43:14
The benefits of a conveyor system for packaging