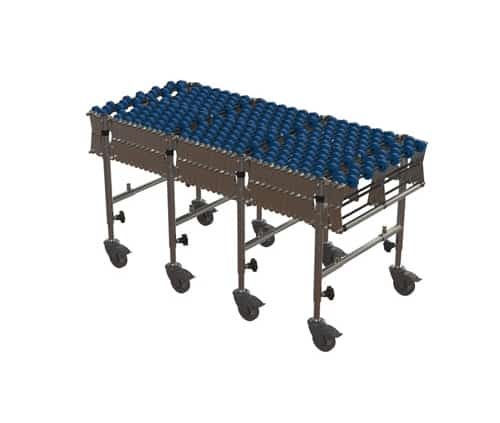 Highly mobile, extremely flexible the Expandaveyor can be moved, stretched out and positioned in minutes. Simply wheel it out and expand it straight or around bends to suit your needs.
When finished just close the unit up and store away. This flexible conveyor has lattice sideframes which enable it to be stretched around corners or even tight bends with ease. These machines can be used on their own or to supplement existing installations in stores, warehouses or assembly lines.
Our flexible conveyors can be fitted with low inertia plastic or steel skatewheels, plastic or steel rollers, mild steel and stainless steel bearings are available, allowing all types of goods to be accommodated. Standard Duty and Heavy Duty & Powered roller models available.
Flexible Conveyors are often associated with the container vehicle loading and unloading operation, however we recommend our purpose made Telescopic Expressway for this application.
Display 15 Products per page