The Best Belt Conveyors and Belting Materials
Belt conveyors can be found in various forms across various industry sectors. Their use in manufacturing, warehousing and logistics provides the speed, accuracy and reliability organisations need to succeed with the belt conveyor integral to maximising production output, ensuring safety, and satisfying consumer expectations and demand.
As a leading provider of high quality, efficient belt conveyors, we're proud to have delivered many different types of belt conveyors to countless facilities over the last four decades.
From our headquarters in the Midlands UK, we've been able to design, build, supply and maintain the belt conveyors supplied to various sectors of industry. Our partnerships with world-leading integrators also guarantees the quality and versatility industry leaders need to enhance their operations across several stages, order picking, packing, and vehicle loading and unloading.
Alongside our range of gravity roller conveyor and flexible conveyors, we provide an extensive range of belt conveyors. For facilities looking to introduce belt conveyors into their supply chain for the very first time or those wishing to expand their use of belt conveyor for a more bespoke setup, the following guide will provide all you need to know about the different types of belt conveyors and the high-quality belting materials used to make them.
What is a belt conveyor?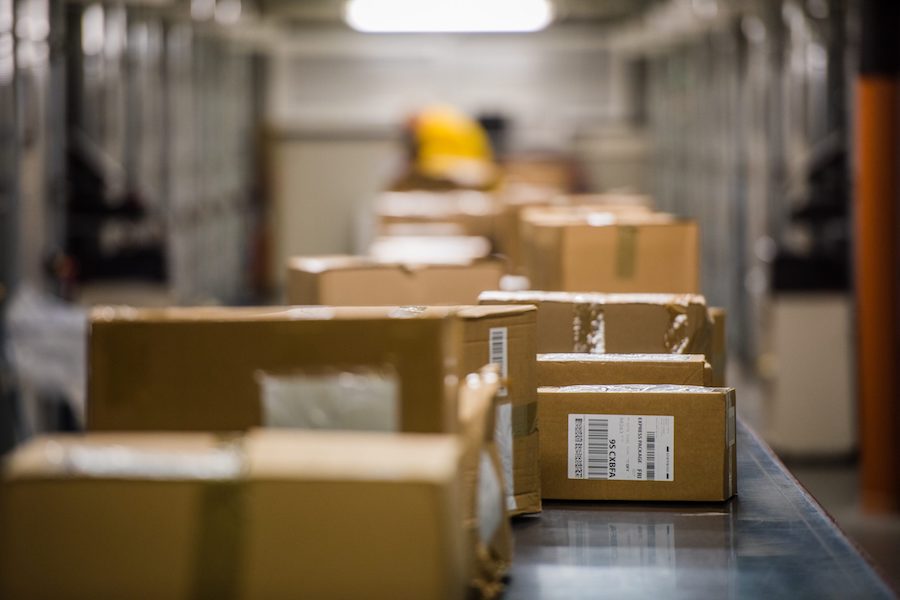 Put simply, a belt conveyor system is a mechanical device that aids the movement of goods (whether that be smaller packets and parcels or heavy, bulky materials) throughout an industrial or commercial setting.
Consisting of a continuous loop of belting materials which is driven by a system of pulleys and powered by an electric motor, belting conveyors provide the construction organisations need to transport materials of all specifications and sizes.
One motorised pulley is used to move the belting materials along and ensure the consistent, smooth motion to transport goods safely and seamlessly. These pulleys (or 'drums' as they are often referred to) run at the same speed and rotate in the same direction, with the belting materials sandwiched in between being pushed through as a result.
Depending on the goods that are being transported, some belt conveyors use rollers as well as pulleys for additional support on the underside of the belt. Belt conveyors are available in various lengths, widths and different material types. Some are better suited to different types of applications. Choosing the right belt conveyor for your specific needs is therefore a priority.
How can a belting conveyor help your industry?
The basic function of a belt conveyor – to move items or objects from A to B with very little effort or intervention – is essential to the success of many sectors. Whether used occasionally as a modular setup to counter seasonal demand or as the mainstay of an operation, belting conveyors unlock a long list of advantages across several industries.
Belt conveyors are commonly found in the manufacturing and warehousing sector, with different types of belt conveyors used in processing plants to transporting bulky materials. The automotive sector also uses belt conveyors to keep their assembly lines as productive as they should be and process waste materials effectively.
The transport, retail and e-commerce, food and beverage, energy, and civil engineering and construction industries represent yet more sectors that rely on belt conveyors to improve their operations as a whole.
There are many advantages to introducing or integrating belting conveyors into your operation. Belt conveyor systems offer a cost-effective and simple method to transport goods over long distances. Thanks to the use of high-quality belt materials that are specific to the application, belt conveyors don't affect the quality or condition of the products that are being conveyed.
Belt conveyors can also offer flexibility when loading and unloading vehicles, organisations often use vehicle loaders for this purpose. Other benefits of using belt conveyors include low noise pollution, long running times, mobile and stationary configurations, improved safety and reduced risk of injury for human workers, and minimal maintenance costs.
Different Types of Belting Conveyors
To ensure every industry sector has access to the belt conveyor they can rely on, there are numerous different types of belt conveyors currently available. If an off-the-shelf setup doesn't suit your needs, going bespoke with your belt conveyor will guarantee a level of automation that deliver results for your operation.
With the experience and expertise to handle every aspect of your belt conveyor system integration – from design, manufacture and electrical controls to delivery, installation, servicing, repairs and spare parts – we've been at the helm of the integration of many, many different types of belt conveyors. These include but are not limited to the following:
Flighted Belt Conveyor
A flighted belt conveyor uses barriers or vertical 'flights' to keep loose material secure during transit. This conveyor type is great for configurations that use inclines and declines to get goods from one part of a facility to another. Flights are arranged in either an inverted T, forward-leaning L or inverted V to transport small parts, food, lightweight and medium-weight bulky materials, and heavy or abrasive goods, even across steep inclines. Lug and peg flights are another design option that facilitates liquid run-off.
Inclined Belt Conveyor
The inclined belt conveyor uses a centre drive, gear motor and single or double nose take-up to transport products with ease and efficiency. Unlike other different types of belt conveyors, inclined systems use rough belting materials to ensure optimum grip. Inclined belt conveyors are used to move goods across varying elevations, including from floor to floor.
Flat Belt Conveyor
The flat belt conveyor is the most commonly used system and one of the best belting conveyors for internal conveying requirements. Utilising a system of powered pulleys and a continuous flat belt, goods can be carried safely at speed. When it comes to the belting materials used to construct flat belt conveyors, the possibilities are endless. Most use either a natural or synthetic fabric to ensure the versatile belt conveyor many years of service.
Trough Belt Conveyor
Found in industrial settings that require robust conveying for bulky or loose materials, trough belt conveyors have elevated, angled sides to keep loose goods contained during transit. The belt itself is run over idler rollers to ensure the consistent movement needed to ensure complete containment and fewer spillages. Trough belting conveyors are also commonly used in food manufacturing.
Roller Bed Belt Conveyor
Combining belting materials with rollers to meet production requirements, roller bed belt conveyors are another popular option. They can be arranged in various configurations and implemented in different lengths, with shorter roller bed belt conveyors using just two rollers to ensure function.
Portable Belt Conveyor
The portable belt conveyor is as flexible as they come. Using universal wheels, these belt conveyors can be moved and reconfigured with ease, which is great for facilities that change the loading and unloading points frequently to transport goods across a shorter distance.
Retractable Belt Conveyor
Retractable belt conveyor use storage belt devices to enable facilities to increase or decrease the length of their belt at will. This efficient setup is popular whilst unloading shipping containers and lorries.
Curved Belt Conveyor
Making use of every inch of factory or warehouse space isn't easy with many different types of belt conveyors that use straight runs only. With the curved belt bend, your product will convey around corners, increasing the floor space available throughout your facility. Curved belt conveyors are ideal for tight transfers. Belting materials can be curved by up to 180 degrees to ensure a setup that works for your operations and wider warehouse configuration.
Steel Belt Conveyor
Using stainless steel belt instead of more traditional belting materials, steel belting conveyors are musts for facilities that require a high level of sanitation and/or handle the movement of hazardous materials at high temperatures. The steel belt conveyor is a common feature in food manufacturing facilities.
Special Belt Conveyor
For the transportation of specialised goods, the special belt conveyor is the bespoke design that facilities can rely on. As a result, special belt conveyors come in all shapes, sizes and specifications, ranging from magnetic and narrow belt conveyors to the use of acid/alkali resistant or flame-retardant belting materials.
Conveyor Belt Materials
It's not just the design of your belt conveyor that matters. Your choice of belting materials should also be considered carefully to ensure a belt conveyor system that satisfies your needs. With this in mind, there are several belting materials to explore.
PVC Conveyor Belt
Available in various colours, PVC belting materials offer the durability and pollution resistance many industrial and commercial settings have to prioritise. A natural PVC coating covers its cotton, nylon or polyester belt core to deliver a belt conveyor that is flexible and resistant to wear.
PU Conveyor Belt
A polyurethane or PU belt has just as many advantages. Used in different types of belt conveyors, especially those that have to transport materials in complex conditions, PU belting materials are resistant to tears, impact and water, making them ideal for use in cold or humid environments. They are also particularly elastic.
Despite these advantages, the high price point of PU belting materials makes PVC a much more economical choice across many sectors.
PE Conveyor Belt
With high tensile strength, excellent flexibility, and uniquely resistant, lightweight finish, PE belting materials are well known for their non-toxic and ultra-hygienic qualities. These belting materials are also FDA approved making them a great, safe choice for the food and medical industries.
Plastic Interlocking Belt
For a modular conveyor belt system that can be altered to your exact requirements, the plastic interlocking belt is the ideal belting material. Moulded using thermoplastic, these single-plate belting materials are assembled in a chain-like design before being installed on your chosen belt conveyor.
Plastic interlocking belting materials are one of the newest belt types on the block, and promise a long list of benefits. These include durability, acid/alkali resistance, wide temperature range, and high anti-viscosity. They can also be configured with flights/cleats at an angle, and require only simple cleaning and maintenance to continue to deliver consistent conveying across a wide range of industrial settings.
Metal Conveyor Belt
Metal conveyor belts come in many different types, including diamond, ball, trapezoid metal and u-chain mesh. The belting materials used to create metal conveyor belts also vary, with everything from stainless and carbon steel wire to polyester and galvanised wire called upon to construct a strong, anti-corrosion, temperature resistant, long lasting finish.
Why choose OCON for your conveyor belting services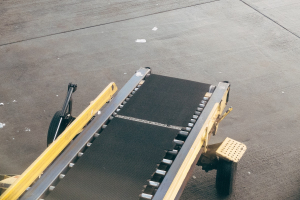 Finding the right belt conveyor system and belting materials is as simple as collaborating with us. Here at Ocon Conveyors, we not only have access to the best belt conveyors but provide the knowledge you need to scour the different types of belt conveyors and come out the other side with a system that really works for you. We've been manufacturing conveyors for more than four decades, and have partnerships with industry-leading brands (including Expandaveyor, Speedtrack and Expressway) to cater to the unique requirements of your distribution, warehousing, logistics, ecommerce, retail, manufacturing or food processing facility.
Our service doesn't end there. Once you've found your perfect belt conveyor system, or commissioned us to design and build a bespoke option, we are ready and waiting to assist you with installation. Our servicing, maintenance, repairs and spare parts offering also ensures you have the support you need to make the most of your investment for the long term.
Our belt conveyor systems are well known for their quality, durability and flexibility, so what are you waiting for? To find out more about the different types of belt conveyors currently available and how the best belting conveyors can help you enhance your operations from the ground up, contact us today to discuss your requirements.
https://www.ocon.co.uk/wp-content/uploads/2022/10/Best-Belting-Conveyors-Belting-Materials.jpg
800
1200
admin@ocon
https://ocon.estaging.co.uk/wp-content/uploads/2021/06/ocon-logo.png
admin@ocon
2023-04-25 16:08:29
2023-05-09 10:19:27
The Best Belt Conveyors and Belting Materials