Choosing the right roller conveyor for your business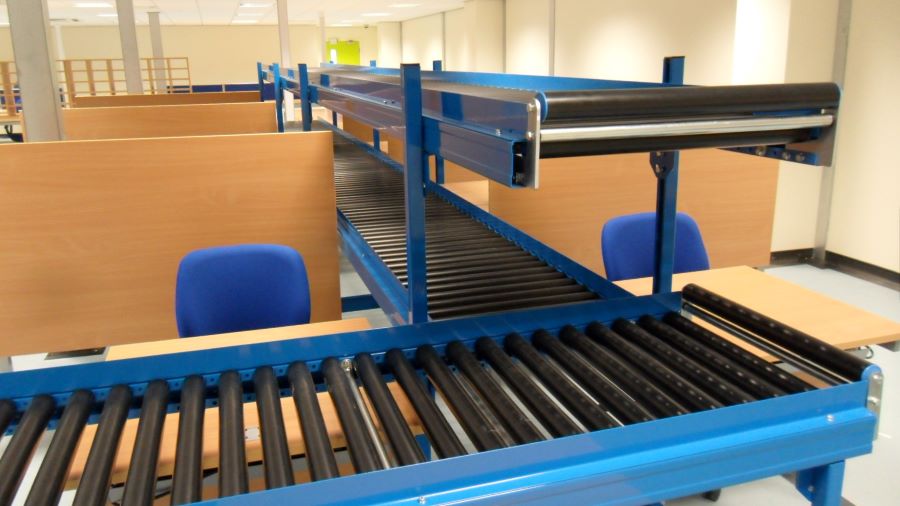 When investing in a new roller conveyor, it's important to be confident in the style, size and material required.
Your business will benefit from having appropriate roller conveyors for the job at hand, as materials handling will be more efficient, and safer and have fewer handling errors.
Choosing the right roller conveyors can be complex, with so many options available, so we've compiled this guide to help find the best roller conveyors for your needs.
What are roller conveyors?
Roller conveyors are a conveyor that uses cylindrical rollers, mounted on axles, to carry payloads from one point to another by rolling.
They can be powered, with a chain connecting sections of rollers and a motor to drive them, or they can have free-spinning rollers.
The latter is known as a gravity roller conveyor, because the payload skates over the surface of the rollers thanks to a slight gradient, propelled by the force of gravity.
Both kinds of roller conveyors are used widely in many industries.
Choosing the right roller conveyor for your business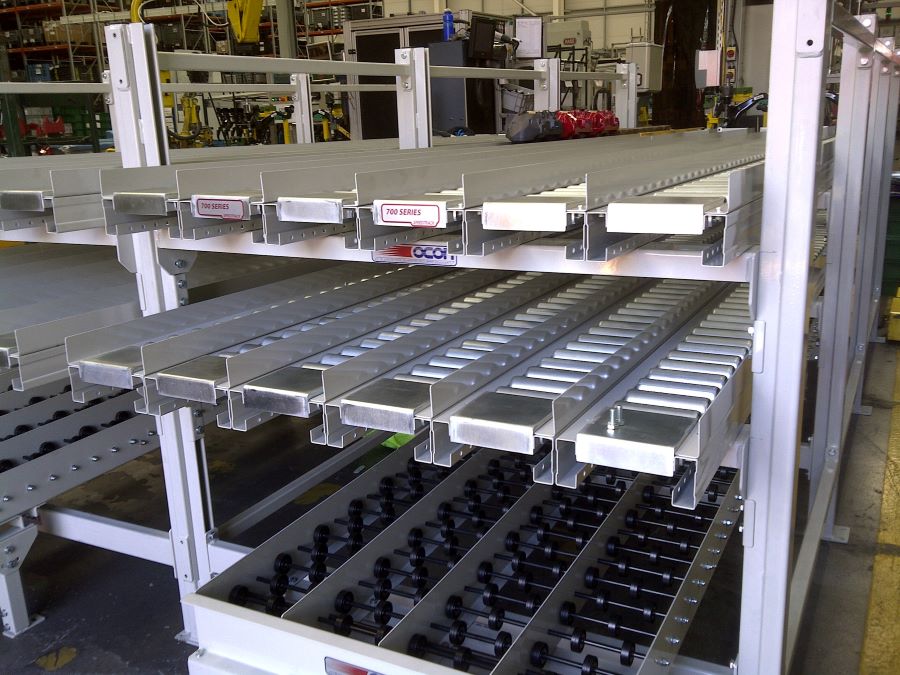 Whether you're looking for roller conveyors for manufacturing, warehousing or logistics, the best type of roller conveyor for your application will depend on the type of load you want to convey.
This impacts the pitch (the distance between the rollers), roller size, and roller conveyor frame.
Load type and accumulation
Roller conveyors with a wide pitch and skate-wheel conveyors are best suited for loads with a flat base, such as a box, carton or tote.
For small parts the rollers should be placed at a tight pitch to ensure items don't fall through.
Which conveyor rollers do i need?
There are many options when it comes to conveyor rollers, from different lengths, sizes and weight capacities. Just as with the frame, the different types of rollers for your conveyor are suited to different applications.
Roller materials
Conveyor rollers can be made from high-impact PVC, Polypropylene, steel or stainless steel. They can have zinc plating or rubber coverings, depending on what best meets your needs.
The most popular option is rollers made from steel and plastic.
Plastic rollers in high-impact PVC are good for general use, as they're durable, water-resistant and heat-resistant. Food-quality hygienic rollers can be manufactured from plastic.
While both stainless steel and PVC conveyor rollers are corrosion-resistant, PVC is often more cost-effective, lighter in weight, and easy to cut to the desired length.
The materials for your bearings are also a consideration, as this is the part which ensures the rollers can spin without much inertia.
Bearings should be strong and durable and can be made from mild steel, stainless steel or PVC.
Roller width and pitch
The size and pitch of the rollers you choose for your conveyor also depend on the size and shape of the load you are moving.
For example, a hard, flat-based load, such as a box, carton or tote, usually requires at least 3 rollers underneath at one time to convey smoothly, so if your totes are 30cm in length, the conveyor should have at least 1 roller per 10 cm.
The pitch should be moderated to accommodate different types of items. If you are conveying small items, you will need rollers positioned closer together.
Conveyor Rollers are available in various diameters, from 20mm diameter to 80mm in diameter.
The strength of the roller is proportional to the diameter and bearing types; heavier items require more robust rollers to withstand the impact generated upon loading.
At OCON, our conveyor rollers have weight capacities ranging from 3-650kg, so you can be sure to find the right option for your needs.
Powered or gravity conveyor?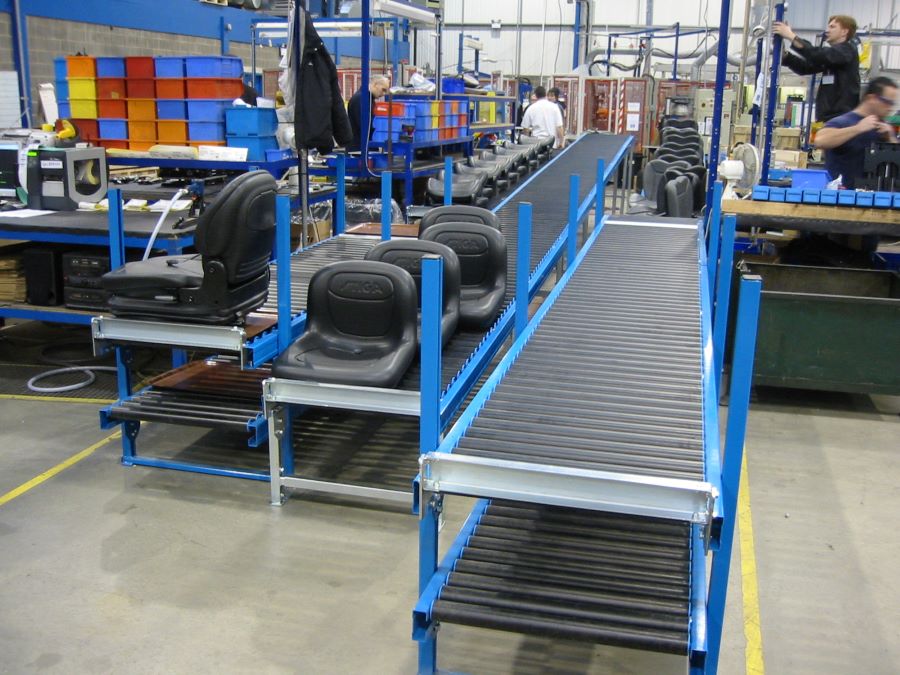 Roller conveyors are available in powered, belt-driven models or as unpowered gravity conveyor models. Powered roller conveyors are available in many forms often supplied with a grooved rollers for the drive belts to link them together.
Choosing a powered roller conveyor has benefits in that items travel at a consistent, controlled speed, and operators can run different sections of the conveyor at once.
A heavy-duty option, for pallets or heavy, flat-based products, uses a direct chain drive to power each roller, reducing the risk of roller slippage.
Gravity conveyors need no power source or motors and are such an energy-efficient and cost-effective option.
They use only the gravitational potential energy of the load to carry it along. With accessories such as end stops and speed restricting rollers, you can control the flow of items along the conveyor system.
Other conveyors to consider
Another type of conveyor is the skate-wheel conveyor, which works on the same principles as the gravity roller conveyor.
Skatewheels have multiple wheels on each axle, making them lightweight and affordable. These require the least amount of slope to start a box moving and can convey goods around tighter curves than a standard roller conveyor is able.
They are also easy to manufacture in flexible, concertina designs so that you can position a temporary conveyor as needed. However, skate wheel conveyors are not well suited to heavy loads, bags or drums.
Final thoughts on choosing roller conveyors
At OCON we provide a large range of powered and gravity roller conveyors, for almost any application.
With over forty years of experience supplying versatile, custom conveyors to businesses in every industry, we've developed enough options that there are innumerable combinations available, whether you want a flexible, stainless steel roller conveyor or a static, powered conveyor with PVC rollers.
Feel free to browse our gravity roller conveyor models, powered roller conveyors and different conveyor roller options we have available, or give us a call to discuss custom roller conveyors for your business.
We're always happy to advise you and answer any queries you may have, so call on 01922 452 333 or email us at enquiries@ocon.co.uk.
https://www.ocon.co.uk/wp-content/uploads/2023/04/Which-conveyor-rollers-do-i-need-1.jpg
675
900
admin@ocon
https://ocon.estaging.co.uk/wp-content/uploads/2021/06/ocon-logo.png
admin@ocon
2023-04-21 11:13:18
2023-05-09 10:15:16
Choosing the right roller conveyor for your business